Susan Clifton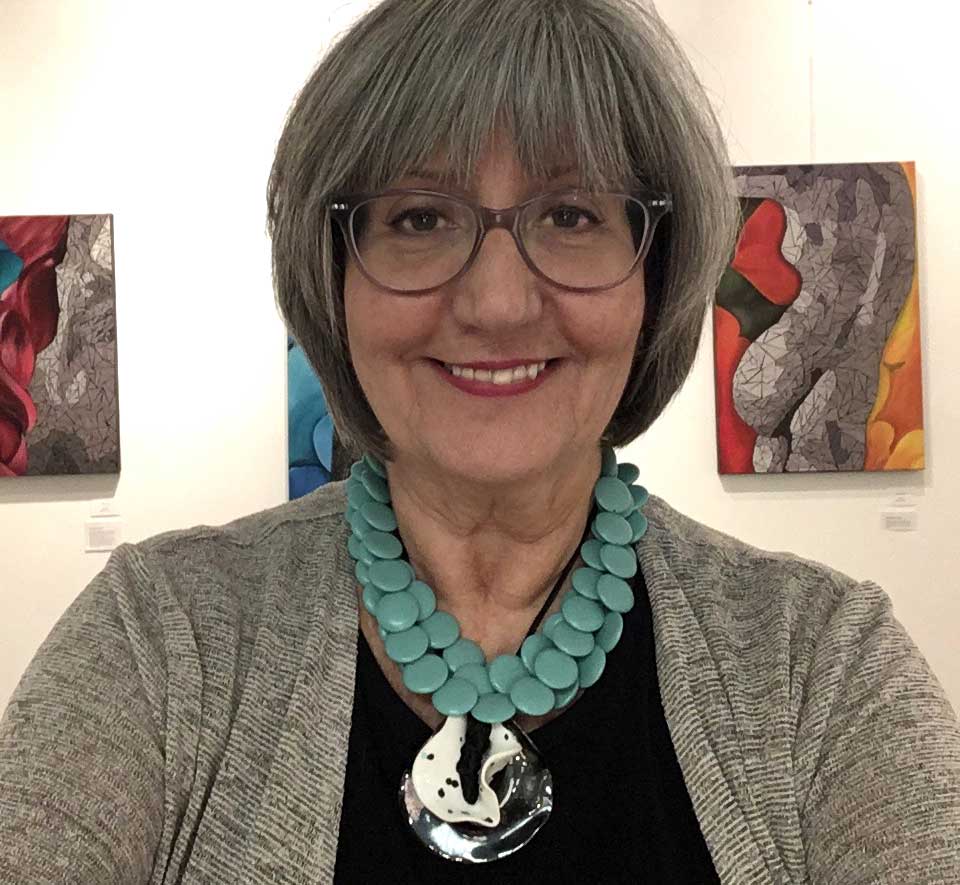 Susan is originally from Philadelphia and went to the Philadelphia College of Art. From there, she moved to NYC where she worked for many years in advertising as an Art Director. She is currently living in Pompano Beach, Florida. Her works are mostly Mixed Media, Fabric Mosaics. Her latest series, "Grey Matter," changes the face of figurative art. This high-energy series of graphics, colors, and words paint us the whole picture of the self we strive to become. We're inspired by each figure's thought process that deepens our visual experience with a lasting imprint on our psyches.
---
Andrea Huffman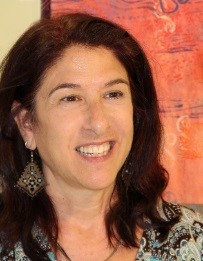 Fiber artist Andrea Huffman received a Master's degree in Art Education from Florida International University and taught art in Broward Public Schools for over 30 years. She has exhibited her art throughout Florida and nationally, receiving numerous awards and recognitions, including several grants and a Residency at the prestigious Hermitage Artist Retreat in Englewood, Florida. Although Ms. Huffman has retired from teaching in the public school system, she continues to share her passion for art teaching classes and workshops in fiber art and mixed media at various art venues and guilds throughout Florida.


www.andreahuffman.com

afhuf24@gmail.com
---
Sandi Lazar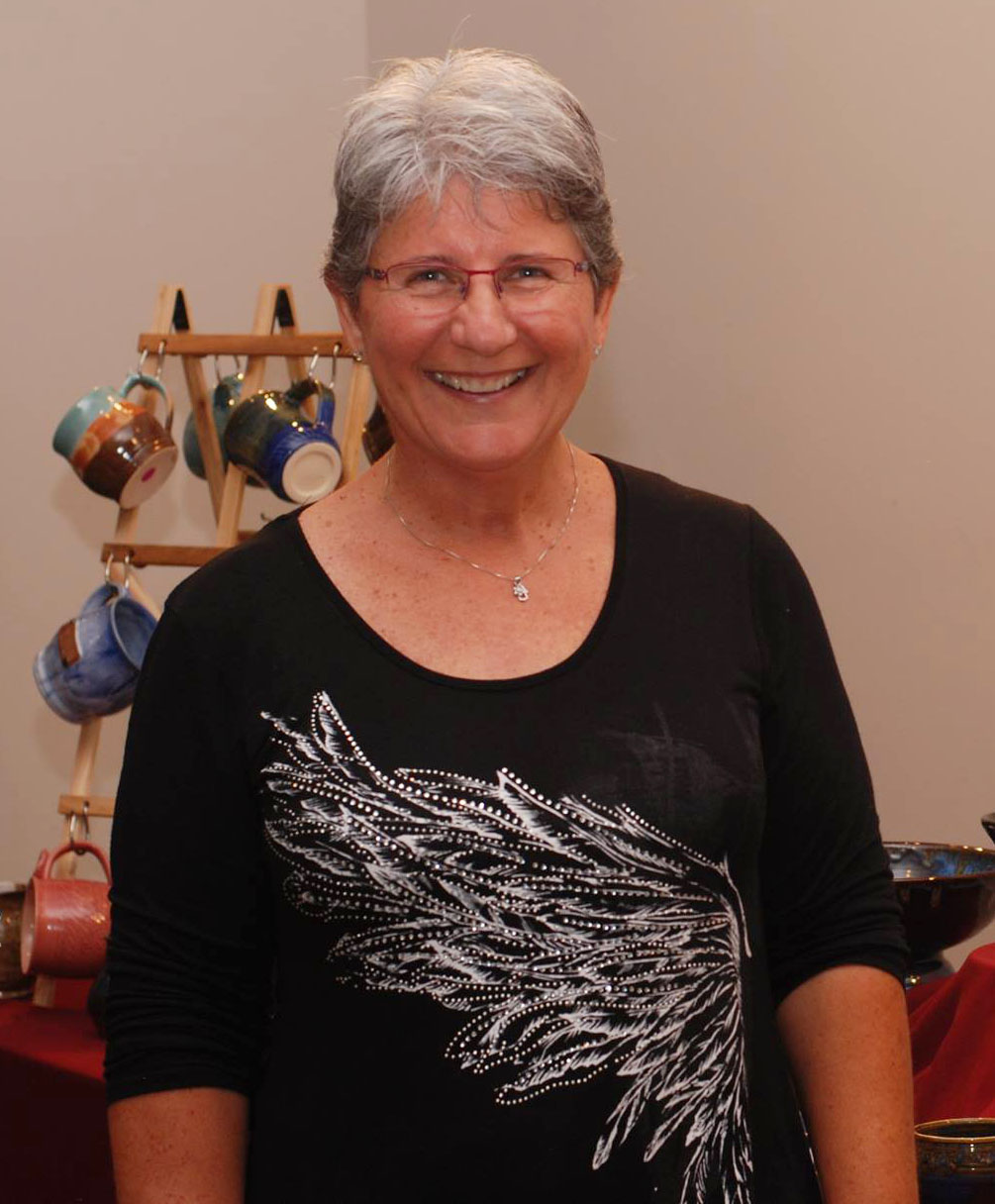 Sandi recently fully committed herself to the art of pottery, after 30 years in the teaching field. After having discovered the craft ten years ago, the practice changed Sandi's life and outlook on artistic expression and its priority in her life. Over the last year, Sandi's functional pieces have gained a dedicated following and she now balances her academic pursuits with commercial sustainability. Sandi continues to experiment and challenge the boundaries of clay, firing and glazes, and is always looking to learn from those well-established artists willing to share their knowledge. In turn, she looks forward to being then able impart her experience as well. Sandi's work can be found weekly at the Pompano Beach Green Market, here at BaCA, as well as local and regional art fairs.
---
Samantha McInnis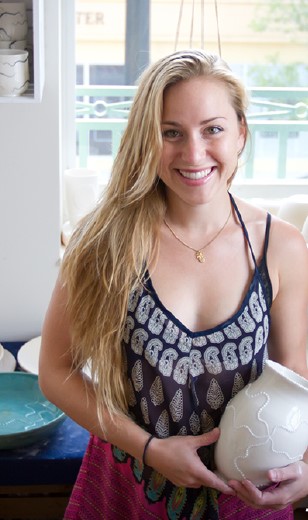 Samantha McInnis is a native Floridian potter who spends her days creating ocean-inspired functional and sculptural ceramic art. Her artistic inspiration began at a young age during the usual weekend boating trips on the west coast of Florida. Her primary source of inspiration is now the Atlantic Ocean and Florida's eastern coastline. Her art is characterized by coastal colors, flowing shapes, and fine craftsmanship.


After passing her portfolio review, Samantha was approved for her Bachelor of Fine Art concentrating in Ceramics from Florida Atlantic University. She graduated in 2011 upon completion of the student installation exhibition, Gamut.


Samantha has since been evolving her craft as well as her company The Clay Cache. For the last two years, she has been relentlessly participating in as many art shows and craft fair pop ups as possible. She has shown her work in places such as the West Palm Beach Bridal Expo and the Coral Gables Mad Hatter Festival. Some weekends she has her booth set up at a monthly art walk in Fort Lauderdale and other weekends she can be found at larger events such as the Dania Beach Seafood Festival.


Besides pop up shops, Samantha sells her work online through Etsy and Amazon Handmade. The Clay Cache can also be found in a few boutiques around the area too. Samantha is working to develop a strong brand for The Clay Cache through shows and social media. The Clay Cache is a name that will be sought after not only for its beauty, but also for the precision and craftsmanship behind her handmade work.
---
Cindy Trezona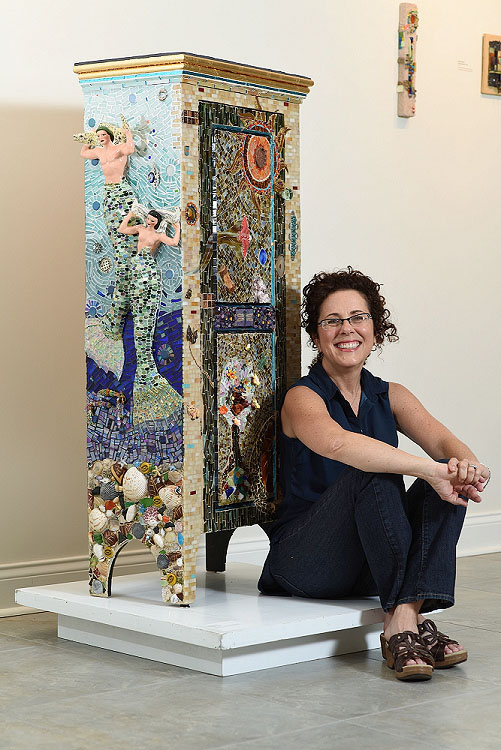 Cindy's artistic process is as integral to her work as the completion of the artwork itself. Accumulating endless materials with which to construct the work can take up to years. The intention of her work can be as simple catching the eye of the viewer with a pleasing surprise of reflective color in a dark palette, or replicating the astounding complexity of a piece that seemingly change with light and angles. Drawing inspiration from nature and its dynamic forces, much of her process is improvisational. Each finished artwork tells a handful of anecdotes, each from a different place and time. Her pieces are a memorial to the personal experiences she's had- the fragments of stories she places in front of the observer. Cindy's art reflects her spiritual beliefs, and creating the artwork elevates her consciousness to a higher frequency. It is a therapy that she practices in order to achieve balance and contentment.